Discover more from One Productivity
Get your free, 5 min daily newsletter. Used by 8k+ people to master procrastination and get things done.
Over 8,000 subscribers
Get to Inbox Zero in Gmail, Once and for All!
Struggling with keeping on top of your emails in Gmail? Try my setup and always keep an Inbox Zero.
This is how I use my Gmail: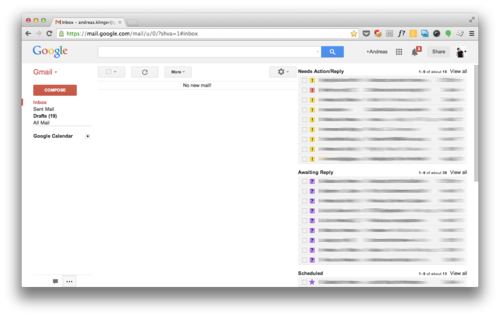 - GTD - Getting things done
- An easy to manage, usually empty inbox on the left
- All "todos" in the first box
- All emails "awaiting a reply" in the second
- All "delegated" emails in the third
- All emails related to meetings, flights, etc easy to find in the fourth
- All done with 0 plugins, using only standard Gmail features
Here's how to manages your daily work using this system:
1. An email comes in
2. Handle those you can instantly
3. The others mark as to do
4. If you want to keep track of them when you replied, you mark them as "Awaiting Reply" or "Delegated" (that way you can always quickly find them and follow up)
5. You archive all emails
6. Your inbox on the left is empty again
7. All important ones are in the special boxes ones the right
Follow this link to set it up: it takes less than 15 minutes and it will save your hours per day!
I use the same system (with minor tweaks) and works like wonders ;)